rollover to enlarge
Description
6061 T-6 Aluminum - Aluminum alloy with magnesium and silicon as it's major alloys. This alloy has high strength with good workability and high resistance to corrosion. Welds well but is more particular in welding skill and setup. Common uses are aircraft fittings, marine components and hardware, electrical fittings, hydraulic pistons, brake pistons, appliance fittings, valve and valve parts, railroad cars, bicycle frames among many other uses. This is a very common alloy and has many uses when high strength, high corrosion resistance and light weight are required.

Note:
-Standard mill finish and is not anodized. It is smooth and can have a fine grain.
-Has no protective film. May have minor scratching.
In stock! Order now!
+ Technical Information
+ Mechanical Properties
+ Chemical Information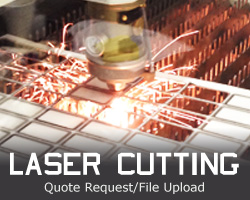 Quick Request
Need something different?
Can't find what you're looking for?
Click here
to submit your request.