COMMERCIAL DUTY STAINLESS STEEL SHELVING
All of our shelving is designed and manufactured in house to exact specifications. Choose from our three unique designs or combine styles to achieve your requirements.
ADJUSTABLE SHELVING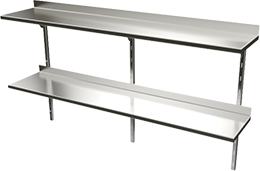 We designed our adjustable shelving based on the time tested classic style. Mount the uprights over studs or use our cleat hanger and position the slotted uprights anywhere. All components are industrial strength and made to handle extreme conditions.

FIXED SHELVING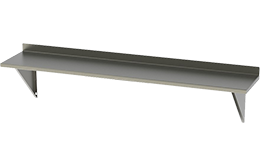 The unique design of our fixed position wall shelves allow you to position the wall brackets on the studs and then simply lay the "self-securing" shelf over the brackets.