HANDCRAFTED SINKS FOR COUNTERTOP INTEGRATION
Design your sink by entering the dimensions that suit your needs.
Create a multi-bowl sink or a single bowl. You can even add a drain board to either side.

Our contemporary commercial style stainless steel sinks are the perfect match for our stainless steel countertops. All sinks are made in house by the same team of craftsmen that build the countertops, insuring a perfect match and fit every time. They are seamlessly welded into the countertop creating a uniform, integrated unit. The tight 5/8" radius coved corners are superior to "zero radius" corners in that they provide a cleanable surface while still offering the desired "modern" look.
SINK EXAMPLES: SINGLE, DOUBLE AND TRIPLE BOWLS

Single Bowl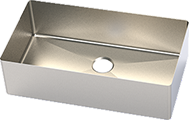 Single Bowl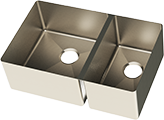 Double Bowl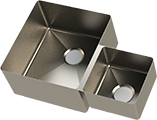 Double Bowl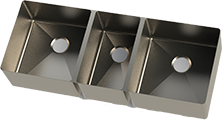 Triple Bowl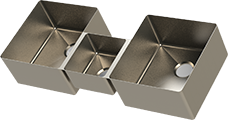 Triple Bowl
SINK EXAMPLES WITH A DRAIN BOARD (Available Lengths: 12", 18" or 24")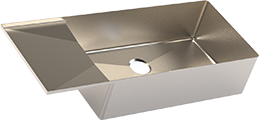 12" Left Drain Board

18" Right Drain Board