STAINLESS STEEL WALL CLADDING SYSTEMS
We Are The Factory
Stainless Supply offers decorative and functional wall cladding systems in a variety of alloys and finishes. We offer plain cladding as well as embossed and two tone designs.
Our wall cladding system consists of two components:
Wall Cladding - Stainless Steel sheets to cover and protect your walls, and
Trim Molding - Used to attach wall cladding and provide an aesthetic for covering seams between sheets and around corners.
Our cladding is being used for a variety of applications including:
Restaurant and commercial kitchen wall covering
Clean room and sanitary wall solutions
Decorative architectural design features
Stainless Supply can meet your wall covering needs. As the manufacturer, our systems are made in our state of the art facility, to exact specifications. Our team is made up of smart, talented people who care about what they do.

STAINLESS STEEL WALL CLADDING

Stainless Steel Wall Cladding
Our wall cladding is available in many patterns and options:

PATTERNS:
Plain Sheet (more info)
Patterned Fine Line and Beveled (more info)
Etched Two Tone (more info)
Custom Patterns Available (Call to discuss with our professional team)
OPTIONS:
Available Metals: 304, 316L and 430
Choice of thicknesses include Light Duty (24 gauge) or Heavy Duty (22 gauge)
Choice of finishes include #4 brushed, #8 mirror, bright annealed and two tone
STAINLESS STEEL TRIM MOLDING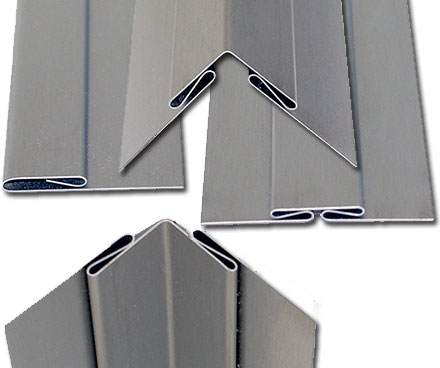 Stainless Steel Trim Molding
We manufacture stainless steel trim moldings that are made from a variety of alloys and finishes that will match your wall cladding selection.

Trim molding is used to attach stainless steel sheets to create wall coverings and backsplashes, providing an aesthetic covering for seams between sheets and around corners. Our trim moldings have deep pockets to allow for variance in the existing wall, and also have extra wide rear flanges to make installation more convenient.